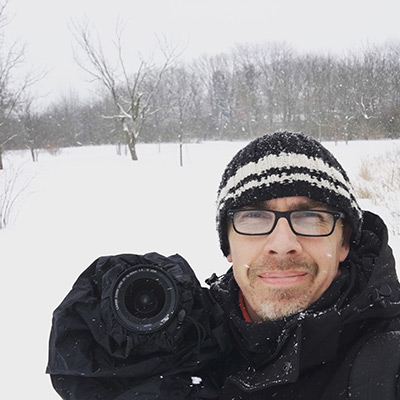 Founded in 2003, Gorilla-Studios is a showcase for my photography portfolio. I have been lucky enough to shoot in Chicago, New York, Los Angeles, London and beyond. While primarily focusing on landscapes and architecture, I also specialize in live music, portraits, nature, and astrophotography as well.
My work is an exploration of beauty and simplicity. We are surrounded by complexity and clutter every day and my photographs aim to give moments of relief. I take away as many distractions in frame as possible to give the viewer a sense of calm and serenity. Even though they are presented here online, they are best viewed in large format framed prints.
I am available for commission work so please contact me to discuss your project. You will find a selection of my work in my portfolio with additional or specific content available upon request.
Where does the name Gorilla-Studios come from?
In 2003 when I started to get serious about my work I decided to create a website to showcase my portfolio. I didn't want to be just another photographer so 'Chris Peak Photography' just didn't stand out to me. Being young and not having found my personal style yet I had it in my head that I wanted to pursue architecture and urban subjects, so my first thought was Guerilla-Studios. I quickly realized two things - spelling it out to everyone would be a major pain, and it's really not representative of myself. I loved how it sounded though and one of my favorite books is Ishmael by Daniel Quinn. The book's main character is a very observant and wise gorilla, so that combined with my love of nature drove me to create Gorilla-Studios.
It is also worth noting that all the animals featured in my work are in their natural environment. In 2003 I spent a few days wandering around Brookfield Zoo and during that time I realized the Silverback Gorilla just laid in the same spot for hours as if broken. It was then that I resolved to never profit from animals in captivity. While I applaud zoos like Brookfield's conservation efforts, I cannot morally justify making money from an animal suffering.
Where can I purchase your work?
Currently my work is not available to purchase online while I search for a vendor that matches my quality and price needs. Prints are available locally to the Chicagoland area in limited quantaties. Please reach out to me for more information.
What equipment do you use?
I currently shoot with a Canon EOS 5D MkIII, paired with a 16-35 f/4, 70-200 f/2.8, and a small number of other lenses. While I have shot Canon since purchasing a 6.3MP EOS 10D back in 2003, I firmly believe the best camera is the one you have on you. In my assortment of gear you will also find a Manfrotto tripod and ballhead, a Kata 3N1-33 Backpack, and a Black Rapid camera strap (a must have).
I am not sponsored by any company or paid to advertise for any entity. All opinions on the site are mine and mine alone.