My Lightroom workflow
Here are my thoughts after switching to using Lightroom fulltime
I finally made the jump this fall and switched my photography workflow to Lightroom 5 full-time. Since at least 2003 I was using Bridge + Photoshop which I knew was not the most efficient way to do it, but it was comfortable and I was fast with it. When I first checked out Lightroom a few years ago I couldn't quite figure out the way to edit my most recent photos on the go while keeping the bulk of my library at home on my archive drives. After some more thinking, and some inspiration from Martin Bailey, I resolved all my issues and took the plunge.
My photo catalog is quickly racing towards 2TB and while it's certainly not as large as some professionals, it's still big enough to cause headaches. I can't fit my catalog on my laptop, and smart previews just weren't going to cut it. After a little reading and testing I setup a workflow where I could have my cake and eat it too. There is a folder on my laptop called 'To Vault' (The Vault is the name of my archive drive). I import all new photos into that folder, using a simple YYYY-MM-DD - Subject folder structure, then open Lightroom and synchronize the folder which imports them into the catalog. Once I am finished editing the photos locally, I then use the Lightroom interface to physically move the source files to The Vault, which is duplicated to another off-site hard drive monthly.
I decided to use Lightroom because I was sick of dealing with maintaining both the source catalog alongside a 'final edits' collection which took up even more space. Lightroom is non-destructive meaning it saves all your 'edits' in simple xml data files which it then applies to the RAW files when you open them in develop mode, that way the source RAW file isn't touched and the edits are only a few kb of data.
Organization
My rating system, while completely arbitrary, has served me well. Three stars is my baseline for anything that has the potential to be added to my portfolio, four stars for gallery images, and five stars are for my master portfolio - a set of 18-20 photos that showcase my best work. One and two stars are for family photos and client shoots which stay private excepting for their respective subjects. Using this structure allows me to setup smart galleries where I can quickly find my best work from a given time frame, or other constraint.
I have a number of smart collections to keep things organized. A catch folder of anything rated higher than 1 in the last 30 days lets me review and edit my 'approved' shots over the last month, meaning my last few photo shoots. I also have smart collections for anything rated 3+ for each calendar year which allows me to review and curate a set of best photos from each year. Additionally I like to go back and see if I missed anything, so I use a 'Review' collection - setting it as the target collection I can go back and look over photos, tapping 'B' to add them quickly so I can take a closer look later.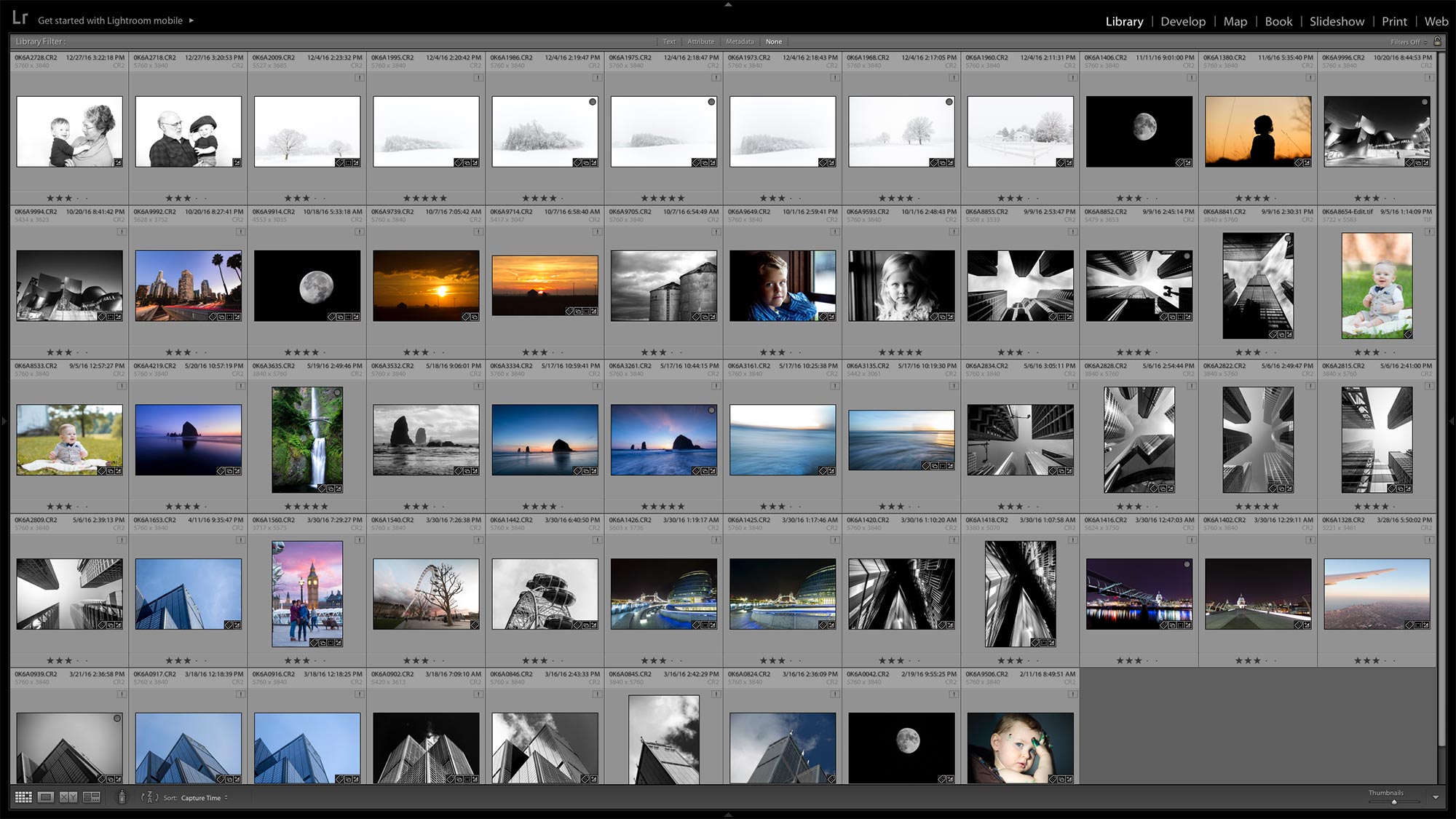 Editing
Editing photos is much faster than using Photoshop. All the adjustments needed are right at your fingertips and are specifically designed for photo editing. For most photos all I usually do is set a lens correction, and make some minor tweaks such as exposure adjustments or spot removal. If I have to do any deep cloning or healing I will sometimes export to Photoshop, but that is only because I am still learning how cloning and healing work in Lightroom. A wonderful feature that I use every time is Before & After review pane. You can view both the original and edited views a few different ways to see how much you have changed - definitely not possible in Photoshop.
Once I am done editing a photo I can simply go back to grid view. I don't worry about exporting or saving an edited version unless I need to post on social media or deliver to a client. This keeps me from filling up drive after drive with the original RAW files AND edited versions of each. On export I can embed copyright information and watermarks, as well as constrain the image size by the long edge (very handy).
Overall impressions
I am sincerely impressed with Lightroom and wish I had made the jump sooner. I know I could upgrade to Creative Cloud for a monthly fee, but I don't like the idea of not being able to use it once I stop paying. Lightroom 5 has all the features I need for my workflow, and while there are a few neat tools in Creative Cloud, there is nothing that makes me want to upgrade any time soon. If you have any questions about how I import, organize, edit, or export my work feel free to contact me, I'd love to chat.